Old Ottawa East braces for Main St. construction
Work to transform road into 'complete street' starts May 24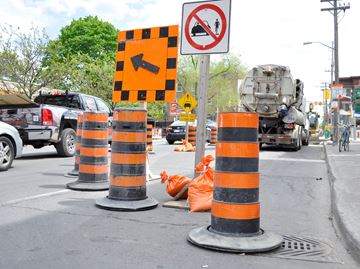 By Alex Robinson, Ottawa Community News
Residents, commuters and business owners are bracing for disruption as construction is set to begin on the Main Street redevelopment project.
The plan, which will transform the road into a "complete street," will close down lanes on large portions of the roads over two years, beginning May 24.
While happy with the ultimate goal of making the street friendlier to pedestrians and cyclists, many residents expressed concern that commuters will cut through their neighbourhood during the construction.
In order to try to alleviate this problem, the city has bought four speed boards for the project that will be used in a variety of locations as construction progresses to slow drivers down.
"Speed is the real issue," project manager Josée Valée said at an open house the city held on May 11 to inform residents about the construction. "We can only address volume so much. We want to make sure that if they do travel through the neighbourhood that they travel at a reasonable speed so it's safe."
The city also has a number of other traffic control devices it might use depending on the data it gets back from its speed boards, such as installing speed bumps, banning left turns onto certain roads and narrowing side streets, Valée said.
The city is also hoping to encourage commuters to take alternate routes and to avoid driving down Main Street unless they absolutely have to.
The redevelopment plan, which was approved by city council in 2013, will widen sidewalks and install bike lanes along Main Street. This will limit the number of lanes for vehicular traffic down to one in each direction at many points along the street with the hope of slowing drivers down.
The work will also include replacing the water mains, the combined sewer system and installing public artworks.
Having experienced the Bank Street reconstruction in the Glebe a few years earlier, Capital Coun. David Chernushenko said the problems caused by construction will be a headache, but will only be temporary.
"It's going to be congested. It's going to be noisy. It's going to be dusty," he said. "It's going to be two years, but let's support each other. We'll get through this."
The councillor encouraged residents to email his office at This email address is being protected from spambots. You need JavaScript enabled to view it. if they are experiencing difficulties due to the construction.
LANE CLOSURES
The first phase of construction will close off northbound traffic from Clegg Street to Lees Avenue, with a single southbound lane until the summer of 2016. From Greenfield Avenue to Hawthorne Avenue, there will be one lane of traffic open in each direction until June 19, when there will only be a southbound lane.
There will also be no northbound traffic from Greenfield to Echo Drive during that time.
Further south, there will be one lane in each direction open at all times from Clegg to Riverdale Avenue, until a six month period later in 2015 or early 2016 when the northbound lane will be closed.
Other parts of the street will be limited to just one lane in each direction, with intermittent lane closures on most sections until 2017.
DETOURS
OC Transpo plans to change routes of northbound buses that would usually travel up Main Street to turn west on Clegg, up Colonel By Drive and then east on Hawthorne. Commuters will have to board and get off the bus on stops on Clegg and Hawthorne, as there will be no stops on Colonel By.
The city recommends drivers go west on Riverside Drive or Riverdale Drive and Sunnyside Avenue to Bank Street. The detour then suggests drivers travel north on Bank Street until turning east on Isabella Street.
The city also has suggested detour routes for cyclists who would usually go up Main Street, sending them up Echo Drive instead.
A number of Alta Vista commuters, who drive on Main Street to travel downtown, attended the open house to voice concern over how the construction will affect them.
Chris Malekos, who uses Main Street to get downtown, said he was told by city staff to take Alta Vista Drive to Hwy. 417 and to exit at Nicholas Street. But the Nicholas Street exit is set to be limited to one lane over a six-month period during the Main Street construction.
"They're choking off two main routes," he said. "Where are the cars going to go?"
TREE CONCERNS
Old Ottawa East residents also voiced concern over the planned removal of 127 old trees for the project.
While the city has pledged to plant 200 to 260 trees along Main Street as part of the project, a number of residents expressed sadness that the older trees could not be saved.
"Really big old trees don't sprout like mushrooms," said resident Cheryl Watters. "We're trying to be environmentally friendly, but at the expense of the trees."
The city has determined that 66 per cent of the old trees are in poor health and would need to come down anyway. Around 14 per cent of the trees that are going to come down are ash trees, which have been ravaged by the emerald ash borer.