O'Connor bikeway compromises in the name of parking
Bike lanes could get confusing south of Pretoria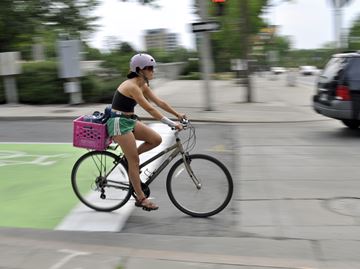 O'Connor's bikeway is meant to create a north-south corridor connecting to Laurier Avenue's segregated bike lanes and Wellington Street further north. File/Metroland
By Emma Jackson, Ottawa Community News
For pediatrician Dr. Michael Richler, the loss of parking in front of his O'Connor Street office would be paramount to neglect.
"Removing our parking in front of our building would be dangerous, let alone unfair," he said at a transportation committee on June 3.
His parking has been in jeopardy thanks to the planned O'Connor bikeway, which staff had proposed to include one-way bike lanes on both sides of the road near his office and eliminating on-street parking.
But the children who visit Richler's office near Monkland Avenue in the Glebe are dealing with a range of serious and debilitating illnesses. New mothers bringing their newborns to see him are recovering from C-sections or can barely walk, he said. Replacing the on-street parking with a bike lane would force these vulnerable patients to find parking in an already jam-packed neighbourhood – and then walk the distance back to the office.
"Forcing them to find parking on side streets would be inhumane, especially in the winter, when they are carrying car seats, slipping on sidewalks, falling, taking that risk," Richler said.
City staff seems to agree, because they've altered their plans for the O'Connor north-south bikeway to remove bike lanes south of Pretoria Avenue in an effort to maintain parking and loading access for local institutions.
The cross-town corridor will eventually connect cyclists in the Glebe to Wellington Street downtown. It also included a bi-directional bike lane from Pretoria northward to Wellington Street (this is still proposed) and one-way bike lanes on the east and west sides of O'Connor south of Pretoria down to Fifth Avenue.
That's where things are getting messy.
Staff amended the plan after consultations in April, suggesting that south of Pretoria the bike lanes should instead give way to shared-use lanes – basically the status quo – rather than installing official bike lanes.
That wasn't good enough for local cyclists, who pushed to have bike lanes reinstated as much as possible in the name of safety but also precedent.
"When every local street has on-street parking, is there going to be a great first plan that always gets walked back every single time?" said cycling advocate Kevin O'Donnell.
Capital Coun. David Chernushenko obliged, passing a motion asking staff to consider adding some dedicated bike lanes back into the mix between Strathcona and Patterson and Monkland and First Avenue, while implementing new traffic calming measures like a 30-kilometre per hour speed limit between Pretoria and Holmwood Avenue.
This compromise would maintain parking for the doctor's office, Chernushenko said, while adding as much new cycling infrastructure as possible.
"It's a little complicated, but we swapped consistency for safety," Chernushenko said.
And it certainly is inconsistent. If Chernushenko's amendments are approved, the bi-directional bike lane north of the highway will transition to one-way bike lanes on both sides of O'Connor at Pretoria (with bike crossings at the intersection) and continue two blocks to Patterson.
From there, the bike lanes would disappear for one block to accommodate the doctor's office before starting up again between Monkland and First.
That section would include an "advisory zone" on the east side to account for a bus loading zone in front of First Avenue Public School, which basically means cyclists have to be on the lookout for school buses entering their space during bell times.
Chernushenko said the inconsistency is a pain, but it's better than nothing.
"In the end, we said, 'Can it really hurt to have some on again off again lanes?'" Chernushenko said. "Yes, it's inconsistent. But where we can we've got bike lanes."
Stage one of the project is set to begin in 2016 in conjunction with the resurfacing of O'Connor. This will complete most of the bikeway from Fifth to Laurier Avenue.
Stage two, which will take the bikeway the rest of the way from Laurier to Wellington, will come after 2017 to avoid construction during Canada's 150th anniversary celebrations.
The entire project will cost $4 million.