Will remodelled Bank Street south mirror the Glebe? Business owners hope not
City unveils proposed redesign plan for five-year overhaul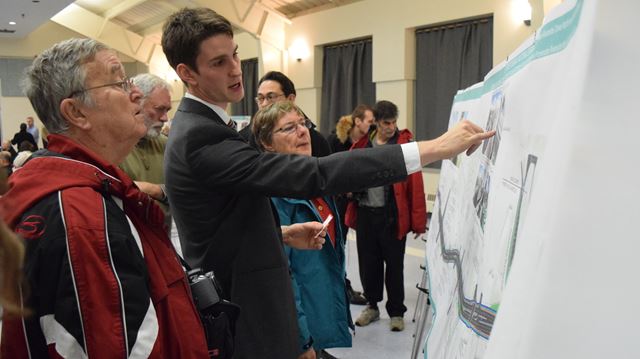 Bank Street redesign coming
Residents listen as Emmett Proulx, a transportation planning designer with MMM Group, explains proposed plans to redesign Bank Street from Riverside Drive to Ledbury Avenue during a consultation meeting at the Jim Durrell Recreation Centre in Alta Vista on Dec. 6.
By Erin McCracken, Ottawa Community News
Business owners worry the proposed redesign of Bank Street between Riverside Drive and Ledbury Avenue is an attempt to import the Glebe's model of bistros, boutiques and cafes farther south, where there are car dealerships, mechanic garages, plazas and large grocery stores.
"Fundamentally, what they're doing is they're trying to change the nature of businesses (along) Bank Street south, something that's more Glebe-ish," said Nikki Dignard, whose husband owns a family dentistry practice on Bank, between Heron Road and Alta Vista Drive.
"How many Glebes do you need? How many Westboros do you need? There still has to be the bread and butter to service the 70 per cent of the population," Dignard said during a public consultation meeting at the Jim Durrell Recreation Centre on Dec. 6.
The presentation offered a first look at the scope of the multi-stage reconstruction project, which is expected to begin in the latter half of 2018 and take an estimated five years to complete.
As an arterial main street, Bank carries a lot of traffic, though in the future a slight reduction is expected when the Trillium O-Train light-rail transit line is expanded south, said Patrick Hill, project manager with consulting firm MMM Group.
"But we also wanted to have that Main Street feel of businesses and an active place for people and cyclists," he said, referring to the transformation of Main Street in Old Ottawa South into the city's first complete street.
It now features cycle tracks — segregated bike lanes at curb height — which are coming to Bank Street in Billings Bridge, Alta Vista, Heron Park, Ridgemont and Ledbury-Banff.
Bank is recognized as a crosstown bikeway, but business owners doubt cycling lanes will bring in more clients given the nature of the "destination businesses" there, said Dignard.
"This whole idea about riding a bike – it's supposed to be a pleasurable experience," said her husband, Ted Henike. "Coming to a dentist while riding your bike? It doesn't equate."
Still, the proposed plan, which was identified as one of 13 capital construction projects in the 2012 Bank Street community design plan, was applauded by some of the 50 people at the meeting, particularly for the cycle tracks.
"They need to do something," said Alta Vista resident Suzanne Lafrance, who used to cycle along Bank Street to Riverside Drive but found it dangerous.
Business owners are also bracing for years of construction.
"We need development. It's going to take place, but what can they do to mitigate (it)? Can they do more work at night time like they do in other cities?" said Robert Laquerre, owner of the Alta Vista Chiropractic and Massage Clinic on Bank, between Heron Road and Alta Vista Drive.
"There will be disruption. There's no doubt about it," Hill said, noting the sewers underneath Bank will also be replaced.
He said he could see a need to keep one lane on each side of the four-lane street open at all times during construction. The construction schedule has not been finalized.
Financial compensation?
Fears over loss of business during construction prompted Dignard to ask if the city would compensate those that suffer financially as a result.
Provincial legislation prevents this, said Capital Coun. David Chernushenko, though the city can defer tax payments for a period of time.
"To put it bluntly, if we did (compensate), it would be citywide on every project and your taxes would have to go up to make up the difference," said Chernushenko, whose ward includes Billings Bridge and Heron Park, as well as Bank Street in the Glebe and Main Street in Old Ottawa South. Both roads have undergone lengthy overhauls.
"The concern of business failure is actually higher than what plays out," he said. "As far as I can tell no businesses failed despite two years of Bank Street reconstruction."
But he acknowledged construction "looks like hell."
"It's dusty and it's noisy and it does deter some people from coming."
However, he said signs can be installed to make sure customers know businesses are still open, newsletters can go out to clientele and the city can ensure access is maintained.
He warned that if businesses "hammer" the doom-and-gloom news about the impact of construction, customers will stay away. Glebe shop owners said they were doing OK and that helped them weather the storm.
The Bank Street preliminary functional design is expected to finish up with transportation planning staff and go to infrastructure services in February 2017. Depending on the city budget approval process, construction on Bank between Riverside and Heron would begin first in 2018, with Bank, from Heron Road to Ledbury Avenue, to follow in 2020.
"The duration of the work would be multi-year for each segment and details would ensue once the final design commences in 2017," said Ann Selfe, a senior transportation engineer with the city.
The cost of the project has not been determined, but Selfe said it will be in the millions.
The deadline to email comments about the project to This email address is being protected from spambots. You need JavaScript enabled to view it. is Dec. 23. However, city staff have said input can be sent in past this date. For more details about the project, go to ottawa.ca.
OTHER PROPOSED BANK STREET CHANGES:
dedicated crossride, or crosswalk for cyclists, at Bank and Riverside
improvements to ramps onto Riverside near Bank
new turning configurations near the Billings Bridge Shopping Centre
new traffic signals at Blue Heron Mall and at the intersection of Bank and Notting Hill Avenue
intersection modifications at Bank and Heron Road, Bank and Alta Vista Drive and Bank and Walkley Road
the removal of bus pull-outs at transit stops
widened sidewalks
replacement of certain two-way left turn lanes with depressed medians
installation of new transit priority lanes along some sections