City unveils proposed redesign plan for five-year overhaul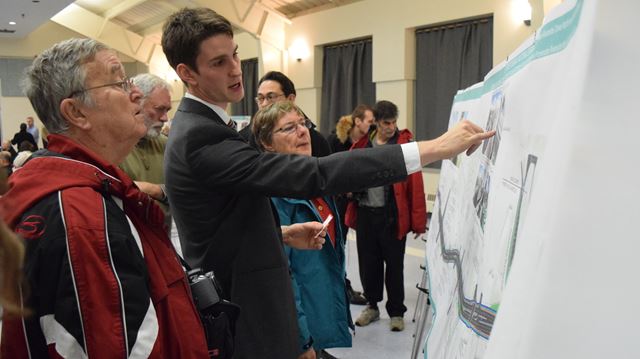 Bank Street redesign coming
Residents listen as Emmett Proulx, a transportation planning designer with MMM Group, explains proposed plans to redesign Bank Street from Riverside Drive to Ledbury Avenue during a consultation meeting at the Jim Durrell Recreation Centre in Alta Vista on Dec. 6.
By Erin McCracken, Ottawa Community News
Business owners worry the proposed redesign of Bank Street between Riverside Drive and Ledbury Avenue is an attempt to import the Glebe's model of bistros, boutiques and cafes farther south, where there are car dealerships, mechanic garages, plazas and large grocery stores.
"Fundamentally, what they're doing is they're trying to change the nature of businesses (along) Bank Street south, something that's more Glebe-ish," said Nikki Dignard, whose husband owns a family dentistry practice on Bank, between Heron Road and Alta Vista Drive.
"How many Glebes do you need? How many Westboros do you need? There still has to be the bread and butter to service the 70 per cent of the population," Dignard said during a public consultation meeting at the Jim Durrell Recreation Centre on Dec. 6.
The presentation offered a first look at the scope of the multi-stage reconstruction project, which is expected to begin in the latter half of 2018 and take an estimated five years to complete.
As an arterial main street, Bank carries a lot of traffic, though in the future a slight reduction is expected when the Trillium O-Train light-rail transit line is expanded south, said Patrick Hill, project manager with consulting firm MMM Group.
"But we also wanted to have that Main Street feel of businesses and an active place for people and cyclists," he said, referring to the transformation of Main Street in Old Ottawa South into the city's first complete street.
It now features cycle tracks — segregated bike lanes at curb height — which are coming to Bank Street in Billings Bridge, Alta Vista, Heron Park, Ridgemont and Ledbury-Banff.
Bank is recognized as a crosstown bikeway, but business owners doubt cycling lanes will bring in more clients given the nature of the "destination businesses" there, said Dignard.
"This whole idea about riding a bike – it's supposed to be a pleasurable experience," said her husband, Ted Henike. "Coming to a dentist while riding your bike? It doesn't equate."
Still, the proposed plan, which was identified as one of 13 capital construction projects in the 2012 Bank Street community design plan, was applauded by some of the 50 people at the meeting, particularly for the cycle tracks.
"They need to do something," said Alta Vista resident Suzanne Lafrance, who used to cycle along Bank Street to Riverside Drive but found it dangerous.