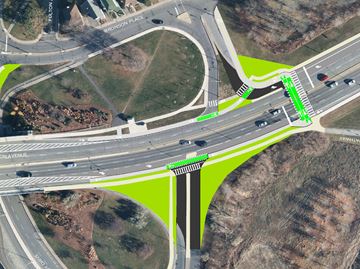 Bronson cycling fixes: Plans for safer cycling facilities on Bronson Avenue show the addition of raised cycling tracks on the stretch near Carleton University, as well as a new pedestrian and cyclist crossing on Bronson Avenue north of the university. Submitted/City of Ottawa

Cycling track, bicycle 'crossride' planned near Carleton University
Laura Mueller, Ottawa Community News
After two years of political delays, permanent cycling safety improvements are on the way for Bronson Avenue.
Capital Coun. David Chernushenko said he is pleased with the solutions being proposed for construction next summer, including a new "crossride" to allow cyclists to safely traverse Bronson north of Sunnyside Avenue.
A crossride has both a crosswalk and dual-direction bike lanes to allow pedestrians and cyclists to traverse Bronson Avenue where a pathway approaches the road from Carleton University.
Council approved the project in 2012, but south-end councillors successfully had its design and implementation delayed until after the Oct. 27 municipal election. Chernushenko said he's breathing a sigh of relief that no cyclists were seriously injured or killed on that busy stretch of road while the process was held up.
"It got politicized," Chernushenko said when asked why the project was happening now, after approval by city council two years ago. In the meantime, removable bollards have been used to separate cyclists from traffic during the warmer months.
The issue was the optics of slowing down commuter traffic from the south end, Chernushenko said, and councillors from River and Gloucester-Southgate wards were concerned with how the project could affect commuters in their wards and their re-election.
By Jon Willing, Ottawa Sun
Rookie councillors are showing they have the spunk to challenge the status quo at City Hall.
One newbie's prodding Wednesday even sparked debate and questions about the annual budget process under Mayor Jim Watson.
All Kitchissippi Coun. Jeff Leiper wanted to do was hold off on deciding the budget process for a week while new members understood the implications.
That drew debate about how the budget is stick-handled through council, with some politicians fearing a return to long, unwieldy meetings.
Leiper brought up the perceived rule of departments being able to add or cut within their own budgets handed down from the mayor and city management.
Capital Coun. David Chernushenko admitted that it "didn't feel too good" going to open houses and feeling like there was nothing he could do to alter a budget.
Even veteran Gloucester-Southgate Coun. Diane Deans was under the impression the rules last term said council couldn't shift money between departmental budgets during the annual debate.
Governance review called for fewer meetings of three committees
Ottawa's new city council has approved a motion to let city committees consider how often they should meet rather than go forward with a proposed plan to limit the number of meetings without public consultation.
Councillors are tackling a 289-page Council Governance Review that will govern the rules for council for the next four years.
One proposed suggestion that met with opposition would have limited three key committees — the transit commission, the community and protective services committee and the environment committee — to just eight meetings a year.
City staff say the committees don't deal with enough city business to justify any more time.
Birds, rocket ships, tire marks all options for new art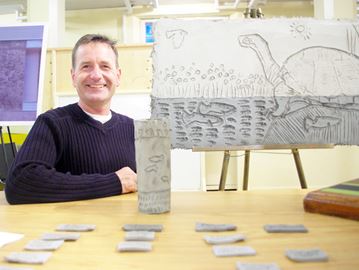 Christopher Griffin's art proposal for the Glebe Parking Garage aims to help shoppers remember where they parked their cars. Griffin is proposing concrete pillars which will be named Dow's Lake, Rideau Canal, Paterson Creek and Brown's Inlet. The Glebe artist's proposal is one of five presented at an open house on Nov. 24.
Michelle Nash, Ottawa Community News
Five artists are vying to be the one who will liven up a new city parking garage in the Glebe.
The artists presented their proposals for project, located between Second and Third avenues, west of Bank Street in the Glebe at a public open house at St. Giles Presbyterian Church on Nov. 24.
The request for submissions was first issued in November 2013, asking artists to create a piece of public art which will integrate visually significant elements to provide identity and character to the building. The theme for the project was to focus on the garage being a mobility hub, something each of the five artists managed to do in their own way.
West-end artist Karl Ciesluk's proposal involves two 4.8-metre high sculptures which are to be placed on both Second and Third avenues. The first sculpture, a tire skid mark, is meant to represent that life is not always in control, Ciesluk said. The other, a larger-than-life blown out tire, is meant to represent the beauty in even the broken things, the artist explained.
"Things that are trash, there can be beauty to it," Ciesluk said. "They are sophisticated sculptures for a sophisticated neighbourhood."
Glebe artist Christopher Griffin's proposal for the garage aims to help shoppers remember where they parked their cars he said. Griffin is proposing concrete support pillars which will be named Dow's Lake, Rideau Canal, Paterson Creek and Brown's Inlet — and add distinction to each of the four levels of the garage.