Governance review called for fewer meetings of three committees
Ottawa's new city council has approved a motion to let city committees consider how often they should meet rather than go forward with a proposed plan to limit the number of meetings without public consultation.
Councillors are tackling a 289-page Council Governance Review that will govern the rules for council for the next four years.
One proposed suggestion that met with opposition would have limited three key committees — the transit commission, the community and protective services committee and the environment committee — to just eight meetings a year.
City staff say the committees don't deal with enough city business to justify any more time.
Birds, rocket ships, tire marks all options for new art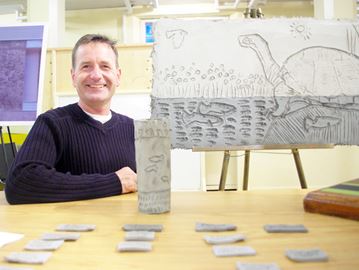 Christopher Griffin's art proposal for the Glebe Parking Garage aims to help shoppers remember where they parked their cars. Griffin is proposing concrete pillars which will be named Dow's Lake, Rideau Canal, Paterson Creek and Brown's Inlet. The Glebe artist's proposal is one of five presented at an open house on Nov. 24.
Michelle Nash, Ottawa Community News
Five artists are vying to be the one who will liven up a new city parking garage in the Glebe.
The artists presented their proposals for project, located between Second and Third avenues, west of Bank Street in the Glebe at a public open house at St. Giles Presbyterian Church on Nov. 24.
The request for submissions was first issued in November 2013, asking artists to create a piece of public art which will integrate visually significant elements to provide identity and character to the building. The theme for the project was to focus on the garage being a mobility hub, something each of the five artists managed to do in their own way.
West-end artist Karl Ciesluk's proposal involves two 4.8-metre high sculptures which are to be placed on both Second and Third avenues. The first sculpture, a tire skid mark, is meant to represent that life is not always in control, Ciesluk said. The other, a larger-than-life blown out tire, is meant to represent the beauty in even the broken things, the artist explained.
"Things that are trash, there can be beauty to it," Ciesluk said. "They are sophisticated sculptures for a sophisticated neighbourhood."
Glebe artist Christopher Griffin's proposal for the garage aims to help shoppers remember where they parked their cars he said. Griffin is proposing concrete support pillars which will be named Dow's Lake, Rideau Canal, Paterson Creek and Brown's Inlet — and add distinction to each of the four levels of the garage.
Tuesday, December 2, 7 – 9 p.m.
River Building – RB 2220-2228
Carleton University
1125 Colonel By Dr.
The City of Ottawa's Public Works Department invites you to an open house on the planned Bronson Avenue pedestrian and cycling crossing
near the Colonel By Drive ramps, just south of the Rideau Canal.
The purpose of the open house is to provide the public an opportunity to:
to review the pedestrian and bicycle crossing options of Bronson Avenue in proximity of the Colonel By Drive Ramps;
to provide input and comment on the proposed crossing location and design; and,
identify any issues and opportunities that you feel should be addressed.
Paid parking is available on site.
A second public open house is scheduled for Monday, December 15, 7 – 9 p.m. at the Greenboro Community Centre (Room A-B), 363 Lorry Greenberg Dr.
Local stakeholders will be consulted throughout the study process to ensure transparency and to ensure that the community has an opportunity to provide their input.
For more information or to forward written comments, contact:
Shawn McGuire
Coordinator, Cycling and Pedestrian Safety
City of Ottawa
100 Constellation Crescent, Ottawa, ON, K2G 6J8
613-580-2424, ext. 32576
This email address is being protected from spambots. You need JavaScript enabled to view it.
Download the display boards [PDF – 5.5 MB]
Download overview of options [PDF – 5.9 MB]
Matthew Pearson, Ottawa Citizen
The future face of Ottawa became clearer Tuesday after the planning committee gave preliminary approval to the 2014 zoning review, a months-long effort to line up zoning guidelines with the city's new official plan. The goal of the exercise is to reduce unpopular "spot rezonings," create certainty for residents and developers alike and support the use of public transit.
It could also lead to fewer rezoning applications, which would mean faster approvals, planners say.
WHAT WAS THE FOCUS OF THE REVIEW?
Mixed-use centres/town centres (Barrhaven, Billings Bridge and Orléans) call for a variety of uses in proximity, such as housing, recreational, commercial, institutional or other employment uses.
Here, the recommendations are to cap building heights at 12 storeys (40 metres), require a minimum of four storeys for office and residential uses and change some zones to the MC designation to permit a broader range of use.
Traditional mainstreets (Merivale Road, Bronson and MacArthur avenues and Preston, Gladstone, Somerset, Dalhousie and Main streets) date to an earlier era, with buildings that are often small in scale and set close to the street. Pedestrians rule in this transit-friendly environment, which typically features commercial uses at street level and residential uses on upper levels.
Here, the recommendations are to continue to cap heights at six storeys (20 metres) and change some zones to TM or a TM subzone to permit a broader range of uses.