Signalized crossing planned for spring 2015
Michelle Nash, Ottawa Community News
The National Capital Commission will present designs for a new signalized crossing at Clegg Street and Colonel By Drive during a Dec. 11 open house.
Working with the city on the project, the NCC's open house will take place from 5:30 to 8 p.m. at Saint Paul University, in Laframboise Hall. The evening will showcase the proposed improvements such as the installation of a traffic light which would be activated by pedestrians and cyclists as needed at Colonel By and Clegg Street.
According to NCC spokesman Cédric Pelletier, the NCC, in partnership with the city, intends to move forward with the planned improvements in the spring 2015.
"The NCC's objective is to move forward with a design that will maintain the NCC's parkways standards, that will improve the level of comfort and safety of pedestrians and cyclists crossing the intersection, and that will satisfy the City of Ottawa requirements," Pelletier said.
The proposed design requires the closure of Echo Drive at Clegg Street and additional pavement markings and support signage is also being considered.
Joanne Chianello, Ottawa Citizen
An amazing thing happened Wednesday at this term's first city council meeting.
Councillors discussed, debated and disagreed on the specifics of a 289-page governance review for more than two-and-a-half hours. And yet the sky didn't fall, there was no sign of dysfunction, and council seemed actually more productive than ever. There were even a few compromise motions passed, with a welcome absence of grandstanding. Could this be the dawn of a new era around the council horseshoe?
It's the earliest of days yet, but the tone at council is already different than four years ago. More than half the newbies — councillors Catherine McKenney, Jeff Leiper, Tobi Nussbaum, Riley Brockington and Jean Cloutier — appeared well-versed in the contents of the governance tome and brought intelligent questions and well-considered improvements.
They didn't showboat, but they weren't afraid to disagree with Mayor Jim Watson's stated preferences, either. It all seemed very grown up.
Leiper, for example, moved a motion to punt an item on budget procedure to next week's council meeting when the budget process is to be hashed out more fully. The new Kitchissippi councillor — along with many others — is worried about the inflexibility of the budget practice, in particular the seeming inability to make any significant changes to the document once the draft is released.
But after numerous assurances from Watson and senior city staff that money actually can be moved among departmental envelopes at the final budget meeting, Leiper withdrew his motion. Reasonable.
Fewer committee meeting questioned
Matthew Pearson, Ottawa Citizen
City politicians got right down to business Wednesday by debating, amending and ultimately approving the governance review. Much of what the report contained could safely be considered inside baseball, but several changes are worth noting, Matthew Pearson
The report recommended that the transit commission and both the community and protective services (CPS) and environment committees hold eight meetings a year, on the understanding that special meetings can be called when necessary (transit held an average of 15 meetings a year between 2010 and 2014; CPS held 10 and environment nine, respectively).
But this proposed change didn't sit well with Gloucester- Southgate Coun. Diane Deans, who has previously chaired both transit and CPS, and rookie Somerset Coun. Catherine McKenney.
They moved that this recommendation be referred to the first meetings of each of these committees/commission in order to receive feedback from the public before coming back to council with a final recommendation about the number of meetings each will hold in a given year.
Council agreed.
NEW DISCLOSURE RULES FOR GIFTS
Since the gift registry for councillors was established, the threshold for disclosing all gifts, benefits and hospitality from one source in a calendar year was $30. Staff recommended in the report that this amount should increase to $150 (the disclosure threshold for receiving tickets to concerts and sporting events will remain $30).
Seeking a middle ground, rookie Rideau-Rockcliffe Coun. Tobi Nussbaum proposed that council set the amount at $100.
That passed on a vote of 15-9.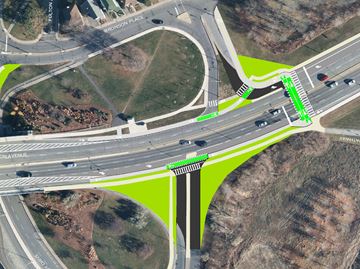 Bronson cycling fixes: Plans for safer cycling facilities on Bronson Avenue show the addition of raised cycling tracks on the stretch near Carleton University, as well as a new pedestrian and cyclist crossing on Bronson Avenue north of the university. Submitted/City of Ottawa

Cycling track, bicycle 'crossride' planned near Carleton University
Laura Mueller, Ottawa Community News
After two years of political delays, permanent cycling safety improvements are on the way for Bronson Avenue.
Capital Coun. David Chernushenko said he is pleased with the solutions being proposed for construction next summer, including a new "crossride" to allow cyclists to safely traverse Bronson north of Sunnyside Avenue.
A crossride has both a crosswalk and dual-direction bike lanes to allow pedestrians and cyclists to traverse Bronson Avenue where a pathway approaches the road from Carleton University.
Council approved the project in 2012, but south-end councillors successfully had its design and implementation delayed until after the Oct. 27 municipal election. Chernushenko said he's breathing a sigh of relief that no cyclists were seriously injured or killed on that busy stretch of road while the process was held up.
"It got politicized," Chernushenko said when asked why the project was happening now, after approval by city council two years ago. In the meantime, removable bollards have been used to separate cyclists from traffic during the warmer months.
The issue was the optics of slowing down commuter traffic from the south end, Chernushenko said, and councillors from River and Gloucester-Southgate wards were concerned with how the project could affect commuters in their wards and their re-election.