Speed humps in the works for Ossington Avenue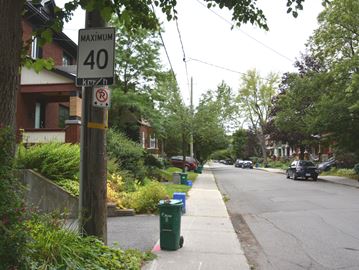 Not so fast: Ossington Avenue's quiet residential feel can be shattered during rush hour as speeders try to skip Bank Street traffic on their way to Carleton University, Bronson Avenue and other points north. Emma Jackson/Metroland
By Emma Jackson, Ottawa Community News
Capital Ward Coun. David Chernushenko is hoping to put the brakes on speeders through Old Ottawa South with two speed humps on Ossington Avenue this fall.
The road is being completely rebuilt between now and November, offering a "very rare opportunity to do it at almost no additional cost," the councillor said. "It doesn't even require an increase in the project budget."
The one-way residential street has a speed limit of 40 km/h, but residents don't feel drivers respect that. Located on the southwest end of the Old Ottawa South neighbourhood, many drivers cut through there to escape the stop-and-go tedium of Bank Street to get to Carleton University, Bronson Avenue or Colonel By Drive during rush hour.
"It's the first opportunity where you can turn left (driving north on Bank)," Chernushenko said. "So it's a frequent choice for people, and usually when they're already frustrated."
That sends angry drivers down the otherwise quiet residential street, something residents say is an accident waiting to happen. In fact, since 2011 there have been four collisions at the Bank and Ossington intersection, and in 2013 a pedestrian was hit mid-block, according to city area traffic manager Heidi Cousineau.
An average of 1,230 cars used the street each day last September, and 15 per cent of them drove more than 44 km/h. That's normal for most city streets, Cousineau said, but combined with the volume and collision stats — and the fact that the road is about to be rebuilt — the conditions are ripe for some traffic calming.
While speed humps can be controversial — they can cause more noise from braking, and are sometimes a problem for emergency vehicles and snow plows — nearly every house on the street is on board, Chernushenko said.
Someone from almost every address signed a petition earlier this spring asking the councillor to install some sort of traffic calming measure on Ossington, and a more specific survey from his office this summer found little opposition to installing the bumps, he said. The councillor is asking residents to provide feedback on the plan before Aug. 31.
The road will be rebuilt entirely between now and November, a project that includes narrowing the roadway slightly to make room for wider, 1.8-metre sidewalks to meet the city's accessibility standard. That will create a tight squeeze in the winter, but the narrower lane will at least add to the overall traffic calming effect on the street, the councillor said.
Even with these changes, Chernushenko was hesitant to call the rebuild a "complete street" project.
"It's a little bit more complete than it is now, if you want a liberal definition of what it means to be complete," he said. But it still lacks bike lanes and other amenities that are the hallmarks of major complete street projects finished elsewhere in the city.
To offer feedback on the speed hump plan, contact Chernushenko's office before Aug. 31 at 613-580-2487.