Ottawa's got recycling in the bag
New program to help apartment dwellers divert waste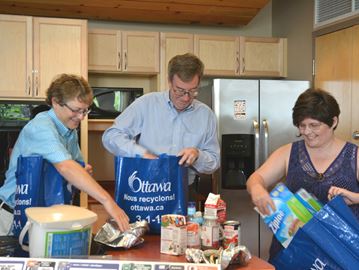 Capital Coun. David Chernushenko, left, Mayor Jim Watson and Beaver Barracks resident Pamela Scaiff pack recyclables into the city's new apartment-friendly blue bag, which was unveiled at the downtown condo building on Sept. 2. Emma Jackson/Metroland
Emma Jackson, Ottawa Community News

Apartment dwellers rejoice: now you can use a handy-dandy bag to store your recycling instead of having to cart unwieldy bins down to the garbage room.
Ottawa Mayor Jim Watson and environment committee chairman Coun. David Chernushenko unveiled the city's new blue bag initiative on Sept. 2 at the Beaver Barracks building on Metcalfe Street.
Similar in size to a reusable grocery bag with a shiny plastic coating to prevent leaks, the bags are designed to fit into small spaces — such as under a sink, for example — with handles for easy carrying.
It's all part of a plan to make recycling in apartments easier.
"We do a pretty good job on the single-family home side of things, but we haven't done a very good job in giving people options when it comes to multi-unit apartment buildings and condos," Watson said.
In 2014, waste diversion from multi-residential buildings was only about 16 per cent, compared to 50 per cent from the regular curb-side pick-up program.
That's partly because the city has faced an uphill battle getting green bins into multi-residential buildings. But even where recycling programs exist — blue and black bins are required if the city is also collecting a building's garbage — they can be underused if residents don't have space in their units to store the recycling bins.
"Those big blue and black boxes may be great for a common area, but they're not that compatible for an apartment," said Watson, who made a point of recycling his printed speech at the end of the event. "This is a much easier way of transporting your papers and egg cartons and tin cups and plastic bottles into the receptacle on the common area floor."
Watson stressed how important it is to divert waste from the landfill. The city wants to keep its landfill at Trail Road open as long as possible, largely because it would cost up to $250 million to build a new one. And that doesn't include the social angst council would endure from the community that gets stuck with a smelly new neighbour.
"The longer we can keep the landfill open, the better it is for taxpayers, the better it is for the environment and the better it is for communities," he said.
The blue bags grew from an initiative by the Centretown Citizens Ottawa Corporation, which owns the Beaver Barracks development. City staff worked with its multi-residential waste contractor Progressive Waste Solutions to come up with a bag that could be marketed city-wide.
Residents who want the free bags can call 3-1-1 or contact Progressive Waste Solutions at 613-740-3281.
GOING GREEN
Making recycling easier is one thing, but Chernushenko said it's an even bigger challenge to bring the city's organics program into multi-residential buildings.
As of this spring, only about 200 of the city's approximately 1,000 multi-residential buildings used the green bin, representing about 10,000 residents. It's mostly townhouse developments and low- and mid-rise buildings.
New condo and apartment builds must now include a waste receptacle room large enough to accommodate all four waste streams, but older buildings are not set up for that, making it nearly impossible to implement the program.
In those cases, it becomes a case-by-case problem-solving exercise to help residents bring the green bin program into their buildings if they want it.
And that's the rub: it's residents who really must push for more robust waste diversion in their buildings, if they decide it's a priority.
"You almost have to have a champion in the building," said Chernushenko, who said he's heard of condo boards supporting it immediately, and others who have voted it down.
Chernushenko said the city's environmental services department is also trying to engage directly with property managers and building owners to encourage them to implement the program. A new brochure explaining the program was recently developed specifically for multi-residential property managers.