Brookfield pathway re-opens after year-long overhaul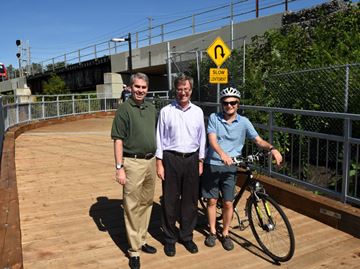 River Coun. Riley Brockington, Mayor Jim Watson and Capital Coun. David Chernushenko officially open the Brookfield multi-use pathway on Sept. 4. Roger Lalonde/Submitted
By Erin McCracken, Ottawa Community News

The Brookfield multi-use pathway is now officially open.
The replacement of the city's only at-grade crossing of the Trillium Line O-Train bridge was a year in the making.
The official opening was attended by River Coun. Riley Brockington, Mayor Jim Watson and Capital Coun. David Chernushenko on Sept. 4.
The project coincided with the city's $59-million Trillium Line expansion project "to improve passenger service and system capacity on the eight-kilometre light-rail route between Greenboro and Bayview stations," the city said in a statement.
"The new Brookfield crossing is a valuable asset to the Riverside Park community as it provides a connection with our neighbouring Heron Park community to the east, as well as to the pathway network that runs along the transitway," Brockington said in an email. "The new grade-separated path provides greater safety over the previous level rail crossing."
The new dedicated grade-separated pathway, which now allows pedestrians and cyclists to cross under the Trillium Line O-Train bridge at Sawmill Creek, was overhauled to the tune of $2.3 million to connect people living or working in Riverside Park, Confederation Heights and Heron Park.
The connection features a wooden deck-elevated crossing and asphalt path, and will be cleared in the winter, according to the city.