Glebe infill raises ire of Fourth Ave neighbours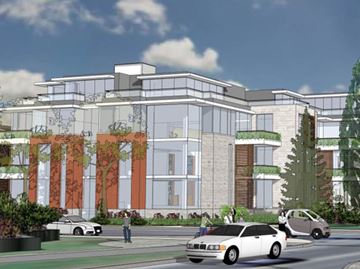 Out of character: An 18-unit low-rise development was passed at planning committee on Sept. 22, despite residents' concerns about community character.
By Emma Jackson, Ottawa Community News
It's offensive, it's a travesty, it's a four-storey apartment development in the Glebe.
More than a dozen residents attended Ottawa's planning committee meeting on Sept. 22 to speak against an 18-unit complex between Fourth and Fifth avenues and the Queen Elizabeth Driveway, which was approved without changes.
The speakers all had similar concerns: excessive shadowing, noise from rooftop air conditioners, loss of trees and, most importantly, a clash with the community's traditional low-rise character.
"It is visually polluting," said long-time Glebe resident Desmond Doran. "It does not fit into the existing neighbourhood."
The project will knock down six buildings – representing 13 units – to build two low-rise apartment buildings with a shared underground parking garage. The zoning has been amended to allow 15 metres of height instead of 11, as well as small changes to setbacks and driveway widths.
Residents argued the modern-style building is out of step with the low-rise neighbourhood, which borders the historic Rideau Canal. They said staff shouldn't count the 1970s high-rises just down the street as precedent to allow more intensification in the neighbourhood, because those towers never had the approval of the community to begin with.
Resident Andrew Webster said the development will have "very predictable negative impacts" on local residents, including increased traffic along Fourth Avenue where the parking garage connects.
"It means doubling Fourth Avenue's local access on the block," Webster said.
He also lamented the loss of six "very splendid brick houses" along the historic Rideau Canal, which attracts thousands of visitors every winter.
But planning staff told the committee the development meets the city's standards for infill and intensification.
"The proposal represents quality design, conforms to the Official Plan and relevant design guidelines," Hamlin said. "The proposed development presents an increase in scale, however the fourth storey steps back to reduce impact of shadows and massing."
She added that the building may actually come in under 15 metres because of grading and design.
But to get to this point, Hamlin said the proposal has been revised significantly to address residents' concerns, which were raised last spring at a consultation.
"Setbacks have been increased, the building massing at the north-east corner has been reduced, balconies were scaled back, more red brick was added down the side streets and three existing trees along Fourth Avenue will be protected," Hamlin said. "These changes have been well received overall by the community association."
She said the National Capital Commission, which owns the Queen Elizabeth Driveway, had voiced its own concerns over setbacks, but those issues have also been resolved.
The building's "saw tooth" design will provide more space for landscaping and the developer will build a new sidewalk to city standards to separate the public and private realms. More trees and landscaping are also proposed along the NCC-owned boulevard.
Planning chairwoman and Barrhaven Coun. Jan Harder also directed staff to consider changes to where the building's HVAC system is located when it comes to the site plan process, to help respond to residents' noise concerns.
The project will head to council for approval Oct. 7.