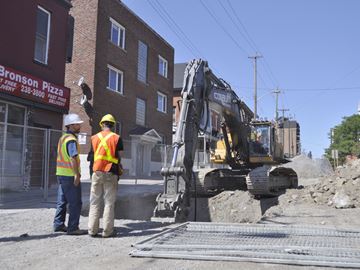 Bronson Avenue was reconstructed in 2012 and 2013 as an arterial road, but now a south-end community association president is worried the road's function as a traffic thoroughfare is threatened by a city plan to allow more businesses along Bronson's north end.
Downtown and south-end residents bemoan zoning changes – for different reasons
Laura Mueller, Ottawa Community News
A south Ottawa community association president is worried about the traffic implications of the city's move to allow "traditional main street" buildings along the north section of Bronson Avenue — a major artery for motorists coming from the south end.
Hunt Club Community Organization president John Sankey says he was surprised by one of the changes in the massive citywide zoning review project: a decision to make the land uses along Bronson north of Bronson Avenue north of Gladstone Avenue conform to a "traditional main street" style.
His concern is that the change will eventually lead the road, which was just rebuilt in 2012 and 2013, to become a main street like Bank Street with slower traffic. Many Hunt Club-area residents use Bronson as a main route to drive downtown.
"This means it can't be an arterial (road) anymore," Sankey said. "If the land use changes, the street has to follow."
But a city planning manager says the move doesn't change the transportation function of the street.
"There is no discrepancy in my mind at all," said Alain Miguelez, the city's program manager for zoning, intensification and neighbourhoods. "The zoning is not doing anything to the roadway."
While the zoning previously allowed mostly residential land uses, the city's Official Plan – the bible for land use – already dictates the street is to have mixed-use buildings.
Changing the zoning to allow "traditional main street" uses, including small businesses and residential buildings of up to 20 metres (six storeys) makes it match that Official Plan goal, Miguelez said.