RedBlacks to build forest at Trim park-and-ride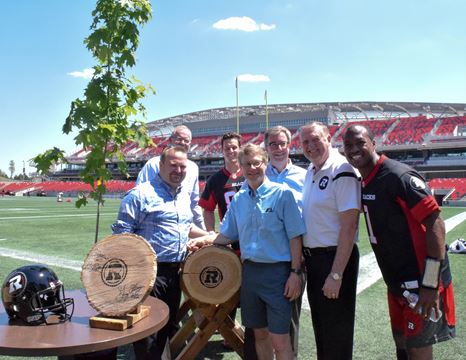 The Ottawa Redblacks announced on July 5 that every touchdown the team scores will be converted to trees at Trim Park and Ride. The partnership with the city aims to create a Redblacks forest. Michelle Nash Baker/METROLAND
By Michelle Nash Baker, Metro Community News
This football season touchdowns are going to be a little greener in Ottawa.
Since the Ottawa RedBlacks hit the field in 2014, the Canadian Football League team has cut down a tree and cut individual log slices — called cookies — every time the team scores a touchdown, and gives them to community members as souvenirs.
Now in an effort to go full circle, the team announced on July 5 it would also plant a tree for every touchdown.
"This initiative adds a new dimension to our touchdown story and extends it to the entire community," said Bernie Ashe, chief executive officer of Ottawa Sports and Entertainment Group, the company that owns the team.
Ashe said the cookies are symbols of excellence to community heroes.
"Now we're creating a forest of trees for the future," he said.
Last year the team scored 35 touchdowns. Ashe said he didn't think it was unreasonable to be able to plant 35 to 40 trees after this season.
City environment committee chairman and Capital Coun. David Chernushenko said the initiative is a fun idea.
"Climate change and deforestation is serious but that doesn't mean we always have to be serious about helping it," Chernushenko said.
The RedBlacks have partnered with the city to create its RedBlacks Forest at the Trim Road park-and-ride in Orleans. The location was picked by the city as a thank you to all the Orleans football fans who take transit for the CFL games.
Each tree will cost around $100 Ashe said, which OSEG will cover. Ashe said he thinks it's an area that could stand to gain a few trees.
"We think this is a really cool way to give back," Ashe said. "I'm looking forward to growing a forest in my community."
Chernushenko agreed.
"The symbolism is fabulous and I'm looking forward to expanding the initiative beyond Trim," Chernushenko said.
The trees will vary in species and will be planted in the fall of 2016 or the spring of 2017, as weather permits.