Company plans to build withing community design plan limits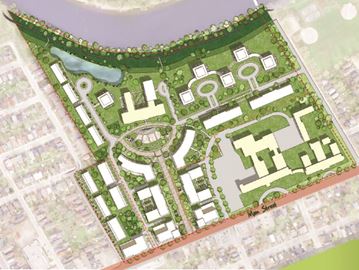 This demonstration plan shows the built form that's possible on the largely vacant institutional lands occupied by religious orders and Saint Paul University. Regional Group confirmed it plans to buy the land owned by the Oblate fathers, mostly east of and including the 'grande allée'.
By Laura Mueller, Ottawa Community News

Nine hundred new homes are set to become a reality in the downtown community of Old Ottawa East as an Ottawa developer agrees to buy the Oblate lands.
Regional Group has drafted plans for how it would build the 10.5 hectares of mostly-vacant prime land, the development of which will nearly double the population of the community. The mostly-vacant institutional lands next to St. Paul University are currently occupied by the Oblates of Mary Immaculate religious order and provide likely the largest redevelopment opportunity in the city's core.
The land sale will be finalized in June, said Regional vice president of development, David Kardish.
Kardish said he sees no need to redraw a concept for the area because he likes the community design plan that was a "labour of love" for local residents.
"If you look at our stuff, we realize the community invested a lot of time and effort," Kardish said. "There is no good reason for us to deviate from that.
"We wanted to respect their issues to the extent possible," Kardish said. "We didn't see the need to go with high rises. We want to develop a very intimate community."