I always try to provide information that is factual and as complete as possible, which can be a challenge on occasion. Sometimes I am forced to hold off until I can provide more complete details, and other times — see the first two items below — I decide to go ahead and share what I know in order to quell rumours or corroborate information that's already floating around. Read on for the facts — there's no fake news here!

David Chernushenko
Councillor for Capital Ward
---
---
Heron Park Community Centre update
Excellent news came from the office of Ottawa South MP David McGuinty several weeks ago, which I have held off publicizing until more details were available. Well, I still don't have much detail to offer, but nonetheless wanted to acknowledge the federal funding commitment towards a renovation or possible replacement of the Heron Park Community Centre.
In the coming months, the City will finalize its matched funding agreement. We will need to confirm at that time whether a full or partial replacement is feasible within the time and budget available, especially given the presence of some soil contamination at the site.
I will be sure to involve local residents in upcoming discussions around the design and features of the new facility.
---
Supportive housing in the Glebe Annex
While I'm in the "it's still too early to tell" mode, I want to reassure residents of the Glebe Annex that a possible new building at 289 Carling Ave. to provide supportive housing is still only in the very preliminary stages.
The City is working with the federal government to provide a residence with services for those who may previously have been homeless. Housing of this kind currently exists in a number of residential neighbourhoods, including several in our ward, and poses few or no issues, and certainly no increased security challenges.
As for the timing, design, the owner/operator and the types of tenants and services to be provided, all of that remains to be determined. Once I have more details about the land purchase and planning process, I will be sure to let the community know and do extensive consultation. I commit to involving the community in decisions regarding design, landscaping, security features, etc.
---
The Old Ottawa East Hosers, in green, conquered the Old Ottawa East Moose, in blue, in the final game of the 2017 Councillor's Cup, refereed by Councillor David Chernushenko, at centre. Photo by John Dance.
Hosers win 2017 Councillor's Cup
Congratulations to the Old Ottawa East Hosers, who triumphed against the Ottawa South Moose, Heron Park Hackers and Glebe Goal-Getters Go-Getters in the 10th annual Councillor's Cup hockey tournament on January 28.
In the final game, the Hosers beat their archrivals, the Moose, by a score of 8-4, despite the latter team's home ice advantage at Windsor Park.
The Councillor's Cup is a friendly tournament that brings together teams from four Capital Ward neighbourhoods, with Councillor David Chernushenko risking both body and reputation as the referee.
---
Combined Sewage Storage Tunnel update
Tunnel shaft at Site 10. City of Ottawa photo.
As some of you may have noticed, work on the City's Combined Sewage Storage Tunnel recently entered a new phase. Excavation of the "Site 10" shaft at Kent St. and Chamberlain Ave. in the Glebe has begun, and the removal of soft material is now complete.
Crews are now in the process of removing rock, which will involve controlled blasting for a period of 10 to 12 weeks. City staff have informed us that the blasting will only be conducted between 7 a.m. and 4 p.m. on weekdays, with a maximum of seven blasts per day, but typically no more than two per week.
The vibrations from these blasts are being carefully monitored to ensure compliance with applicable guidelines and to alleviate the possibility of damage to nearby structures. To date, three controlled blasts have occurred at Site 10, on Feb. 7, 10 and 14.
Staff will continue to engage with residents in the blasting notification area surrounding the site, as they have done since the start of the project. A Field Ambassador has also been hired to serve as a liaison for adjacent businesses.
More information on these activities and the project in general is available at ottawa.ca. Residents can also sign up to receive regular project updates using the City's eSubscription signup form.
The Combined Sewage Storage Tunnel (CSST) is part of the Ottawa River Action Plan (ORAP). It will greatly reduce the frequency of sewage overflows during storms from entering the Ottawa River.
---
Temporary closure of Greenfield Ave.
As part of the O-Train Confederation Line LRT project, Greenfield Ave. from King Edward Ave. to the westbound Hwy. 417 on-ramp will be closed from Friday, Feb. 24, at 8 p.m. until Monday Feb. 27, at 6 a.m. to facilitate construction on the Mann Ave. Bridge.
Detours will be in place around the Greenfield/Mann/King Edward intersection. Pedestrians and cyclists will have access to the north/south sidewalk and roadway going through the intersection. As the sidewalks on Greenfield will be closed, those looking to go east/west between Nicholas St. and King Edward are advised to use Marie Curie Pvt. and the tunnel under Nicholas St. to access the Rideau Canal pathway adjacent to Colonel By Dr.
Vehicles travelling on Lees Ave., Mann and King Edward will not be able to access Greenfield, and those wanting to access the Hwy. 417 westbound on-ramp on Greenfield are advised to take Laurier Ave. W. to the Nicholas on-ramp. The westbound on-ramp on Greenfield Avenue will still be accessible for those coming from the west along Greenfield.
An overnight noise exemption has been approved for this work, as noise levels are expected to be moderate to high.
For further information about this project, please contact the City's representative:
Alison Lynch
Stakeholder Relations
O-Train Construction and O-Train Planning
This email address is being protected from spambots. You need JavaScript enabled to view it.
(613) 580-2424, ext. 17950
---
The City of Ottawa has retained the services of R.V. Anderson Associates Limited to undertake Preliminary and Detailed Design for the renewal of various multi-use pathways that are in need of upgrading. Among these is the pathway running through Linda Thom Park and Windsor Park in Old Ottawa South, and the link between Old Riverside Dr. (north of Smyth) to the SE Transitway.
The pathways will be replaced later this year in the same location as the existing pathways, with widening to 3m in places where the existing pathway is narrower.
---
Safe Wings Ottawa Annual Bird Display
Monday, Feb. 27, 11 a.m. – 1:30 p.m.
Ottawa City Hall, 110 Laurier Ave. W.
Safe Wings Ottawa, an organization dedicated to bird collision research, prevention and rescue, is presenting its annual public display of birds that died in from windows strikes.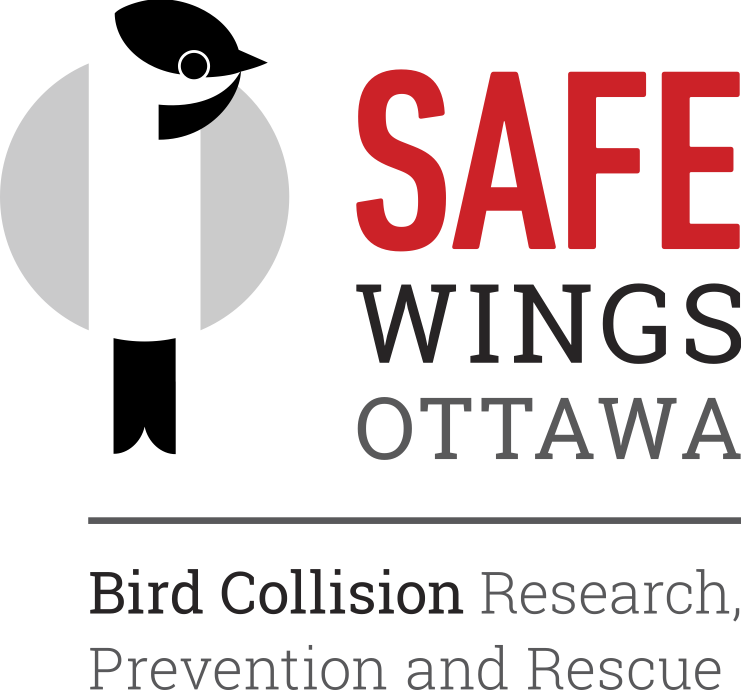 The purpose of the event is to raise awareness of the problem of bird collisions and to educate people about what they can do to prevent unnecessary bird deaths.
This year, volunteers will lay out more than 1,700 victims collected in 2016, representing just a small fraction of birds killed by window collisions every year in Ottawa. These include the dozens of Bohemian Waxwings that died last April at City Hall's raised glass walkway, which has since been retrofitted with a pattern of dots to deter further collisions.
Safe Wings Ottawa is a program of the Ottawa Field-Naturalists' Club.
---
Friday, March 10, 9:30 – noon
Ottawa City Hall, 110 Laurier Ave. W. (Andrew Haydon Hall — Council Chambers)
The Crime Prevention Ottawa (CPO) Speaker Series presents Dr. Theresa Tam, Interim Chief Public Health Officer, speaking about "Public Health in Canada 2016: A Focus on Family Violence in Canada".
The annual report, the first to focus on family violence, outlines the important health consequences of all aspects of violence in the family, including partner assault, child abuse and elder abuse. Come and learn more about this important data and be introduced to a new way of thinking about this important safety issue.
The keynote speaker will be followed by some examples of local programming that are reaching out to prevent violence. The panel, chaired by Dr. Isra Levy, Medical Officer of Health, Ottawa Public Health, will include:
Erin Leigh, Executive Director, Ottawa Coalition to End Violence Against Women;
Denise Hébert, Manager of Healthy Babies and Healthy Children program, Ottawa Public Health (OPH)
Conny Menger, Regional Consultant Eastern Ontario, Elder Abuse Ontario
RSVP to Crime Prevention Ottawa at This email address is being protected from spambots. You need JavaScript enabled to view it. or 613-580-2424 ext. 25393. Click here to download a PDF of the Report on the State of Public Health in Canada 2016.
---
Public meeting: Brewer Park Reimagined
Thursday, March 23, 7 – 9 p.m.
Southminster United Church, 15 Aylmer Ave.
How would you like to see Brewer Park in Old Ottawa South transformed?
Budget 2017 allocated $100,000 to study the renewal of Brewer Park, which has the potential to be substantially redesigned to make better use of the space, by consolidating roads and parking to create more space for fields, arena(s), a pool and even a gym.
Share your vision for the park of the future by attending this public meeting, or email your ideas to This email address is being protected from spambots. You need JavaScript enabled to view it..
---
Public information session: OOS road renewal
Wednesday, March 29, 7 – 9 p.m.
Southminster United Church, 15 Aylmer Ave.
The City of Ottawa is hosting a public information session on road renewal in the northwest portion of Old Ottawa South, where the existing watermain, sanitary sewer and road infrastructure has reached the end of its useful life and is in need of replacement/upgrading.This open house is an opportunity to review the design, ask questions and provide comment on the proposed works.
The project area is predominantly bounded by Bronson Pl. to the west, Colonel By Dr. to the north, Seneca St. to the east and Sunnyside Ave. to the south. A three-block section along Seneca St. extends south to Grove Ave., and captures a section of Glen Ave. and Grove Ave. near the Brewer Arena.
The affected streets are:
Aylmer Ave. (Bronson Pl. to Seneca St.)
Carlyle Ave. (Woodbine Pl. to dead end)
Colonel By Dr. (parkland, Carlyle Ave. to Fulton Ave.) — remove watermain dead-ends
Downing St. (Seneca St. to Carlyle Ave.)
Fulton Ave. (Woodbine Pl. to dead end)
Glen Ave. (Seneca St. to Grove Ave. N/S)
Grove Ave. N/S (Glen Ave. to Grove Ave. E/W) — watermain only
Pansy Ave. (Seneca St. to Carlyle Ave.)
Seneca St. (Grove Ave. to Colonel By Dr.)
Woodbine Pl. (Seneca St. to Carlyle Ave.) — sewer only
Woodbine Pl. (Carlyle Ave. to Fulton Ave.) — watermain only
An additional public information session to show the final detailed design is expected next fall. Construction is expected to start in Spring 2018, with completion by Fall 2019.
For more information about this project, please visit ottawa.ca.
---
#OttYouth2017 social media campaign
#OttYouth2017 is a social media campaign launched by the Ottawa Youth Engagement Committee (OYEC) to showcase youth-friendly faces, spaces and accomplishments that have contributed significantly to the success of our capital city.
Young people are invited to submit a photo and short story (maximum 200 words), and OYEC will choose and feature more than 150 of these stories on youthottawa.ca, Instagram, Facebook and Twitter throughout 2017. The top stories that captivate our audience will receive prizes at the end of the campaign.

To enter, follow the instructions at youthottawa.ca/ottyouth2017. The deadline is March 15.

OYEC, a Youth Ottawa initiative in conjunction with the City of Ottawa, aims to encourage youth engagement and amplify youth representation at the City.